Films, TV Series & Radio Broadcasts 1961 – 1971
(1958, 59 &1960 Diaries missing)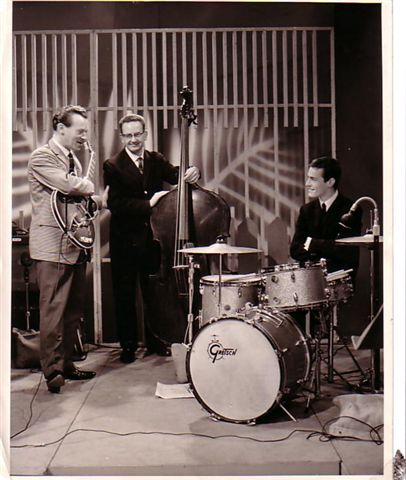 Bert Weedon, Ron Prentice, Tony Meghan on the set of the Associated-Rediffusion TV "Tuesday Rendezvous" programme.
The following information has been gleaned from my working diaries of the period.
However an explanation of the way freelance session musicians were booked may help to understand why some of the information given is rather minimal.
It was unusual for a record company, film production company or BBC producer to offer the work directly to a musician. It was always done through a middle man, known as a contractor or 'fixer'. The record company would phone a contractor (let's call him Charlie), who would then phone to ask if you were available to do a session at Decca on a certain date and time. If you were, you would be told what instrument to bring i.e. double bass, bass guitar or acoustic bass guitar. If you were not available Charlie would say 'never mind, better luck next time!' At the end of the session, Charlie would arrive with your fee in a little envelope which you would sign for.
Record sessions were either booked for two hours (half session) or three hours (full session) and paid accordingly. Film music recordings were usually in groups of 3 hour sessions. TV broadcasts comprised a pre-rehearsal of 2 hours plus a 4 hour rehearsal on the day of the show which was then either broadcast live or recorded for later transmission.
Film sessions were also booked and paid for by a contractor. However some were paid for by the production accountant at the studio. In this instance you would know the name of the production company and usually the title of the film. If a contractor paid you, it was unlikely that you would be aware of either the company or name of the film.
Hence in the following lists of information a large number of production companies and film names are given as 'unknown'.
BBC radio broadcasts were either booked by a contractor or directly through the bandleader concerned. When offered, deputy work with the BBC Staff Orchestras was booked directly by the BBC.
| | |
| --- | --- |
| | Radio shows and Television shows were often booked as a series. A short series was 6 shows and a normal series was 12 shows. In long running radio shows series would merge together to form a continuous run of broadcasts (as in the case of 'Go Man Go' which ran continuously for more than three years and 'Saturday Club' which ran from 1960 through 1966). |
| 1957 The Terry Kennedy 'Rock 'n Rollers'. My first professional engagement was with this band touring the variety theatres with comedian Max Wall. | |
Films
1961-62 Edgar Wallace 'Man of Mystery' 2 nd feature films. Shepperton Film Studios. Director of music Bernard Ebbinghouse.
1961 August Elstree Studios Associated British Picture Corpn.AA Productions.
Title unknown.
1961 August Twickenham Film Studio. MD Ken Jones (Music)Ltd. Unknown
1961 November. Pinewood Studios. Walt Disney Productions. 'The Castaways'
featuring: Maurice Chevalier, Hayley Mills, George Sanders, Wilfred .Hyde-White
1962
April Merton Park Studio. Anglo Guild Productions, md Bernard Ebbinghouse, Title 'Time to Remember'. Starring Yvonne Monlaur, Harry H.Corbett, Robert Rietty.
June MGM Elstree. 'I thank a Fool'. Directed Robert Stevens. Starring Susan Heywood, Peter Finch, Diane Cilento, Cyril Cusack, Richard Wattis, Mariam Karlin.
June Shepperton Film Studio. Large Stage. 8.00 am. De Lane Lea Ltd. Unknown.
July Merton Park Studio. Guild Holdings Ltd. 2.30 – 5.30pm Title unknown
October Denham film Studio. 2.0 – 5.0pm Fixer Jack Peach. Rank Organisation. Title unknown, but possibly Cliff Richard 'Summer Holiday'
November Marcus Cooper Studios. Searchlight Films. 10 am – 5.30 pm Title unknown.
December MGM Elstree. 'Lolita' starring James Mason, Shelley Winters, Sue Lyon, Lois Maxwell. md Nelson Riddle. Stanley Kubrick's 6 th film.
December Merton Park Studio. Guild Holdings Ltd 10 .00 – 1.00pm unknown
December Denham Film Studio. Walter Sharman Films Ltd. 2-5pm unknown
Md Steve Race.
1963
March Beaconsfield Studios. Md Bernard Ebbinghouse. 2.30-5.30pm. unknown
March MGM Elstree. 'Murder at the Gallop'. 2 nd in series of Miss Marple films. Starring Margaret Rutherford, Robert Morley, Flora Robson. 9-5pm. 2 days. Fixer Ralph Elman.
April Olympic Studio. 1.30-1.30pm. Geoffrey Jones (Films) Ltd. Title 'Snow' Railways, trains, Travellers in a battle against snow.
May MGM Elstree. 9-12pm. Fixer David Katz. Title unknown
July Recorded Sound Studio. Anglo Scottish Pictures. Documentaries Country of the Clyde – Beyond the Grampians & The Big Mill.
1964
April I.B.C. Studios. Anderson Films Ltd. Fixer Keith Papworth. Thunderbirds or Stingray.
May ABC Elstree. Ivy Productions Ltd. Fixer Bert Bullimore. Unknown.
June ABC Studios, Elstree. 'Rattle of a Simple Man' starring Harry H. Corbett, Diane Cilento, Michael Medwin, Thora Hird. Martello Film Prod Ltd. Fixer Bert Bullimore.
September Beaconsfield Fim Studio. md Phil Martell. Fixer Roland Harker. Unknown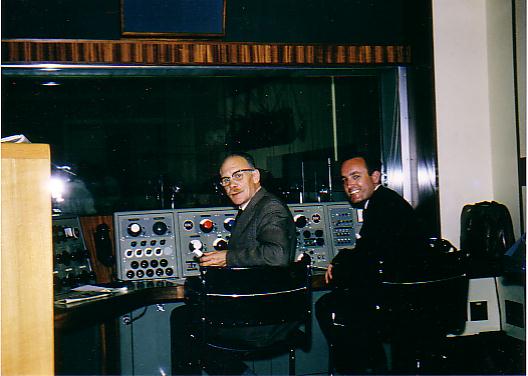 A break in recording the 'Jimmy Young Show'. The Control Room of Studio S2 Broadcasting House. Derek Mills (Producer) on right.
1965
May Beaconsfield Film Studio. 7.-10pm md Edwin Astley. Fixer Roland Harker. 'Danger Man'

October Denham Film Studios. R.O.Film Productions. No other information.

November Halas & Batchelor Cartoon Films Ltd. No other information.

November CTS Studios. Horizon Pictures (GB) Ltd. Fixer Sid Margo. 3 days. Unknown.

December ABC studios. Elstree 2-6pm. Fixer Jerry Jackson. Unknown.
1966
February Beaconsfield Studios. Anvil Theatre. Md Mike Vickers. Fixer Geof Love. 9-12pm. Unknown.
March ABC Elstree. 4-7pm. Fixer Orchestral Services Ltd. Unknown.
May Denham Film Studio. Winkast Film Productions. Kalidescope 'The Bank Breaker' md Stanley Myers. Starring Warren Beaty, Susannah York, Eric Porter.
September CTS Studios. Seven Pines Productions. 7-10pm fixer Sid Margo. Unknown
October CTS Studios. Ivan Foxwell Productions. 'The Quiller Memorandum'
1967
January ABC Elstree. 'The Double Man' starring Btitt Ekland, Yul Brynner.
April/May CTS Studios. EON Productions. 'You Only Live Twice' fixer Sid Margo.
July Denham Film Studios. 3 days. Mazurka Productions. Fixer John Flanagan. Unknown.
November Denham Film Studios. Transcontinental Film Productions. Unknown.
December Olympic Studio. Salamander Film Productions. 'Dr.Who' Sid Margo.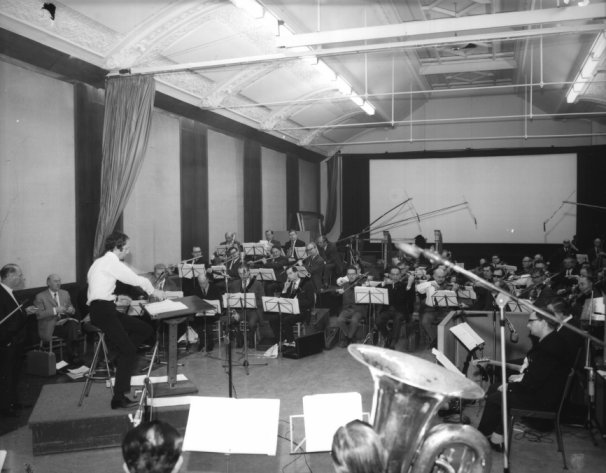 The conductor is composer John Barry. I am framed by the mic stand next to the tuba.
1968
January Olympic Studio. Mirisch Films. md Ron Goodwin. possibly 'Submarine X-1' fixer Harry Martell.
March Olympic. Universal Pictures Ltd. Fixer Sid Margo. 7.30-10.30pm. unknown
July Advision Studios. Vic Film Productions Ltd. 2.30-5.30pm unknown
August Denham Film Studios. Windward Film Productions Ltd. Unknown
October EMI Studio S1. Sidney Sax. Columbia Pictures. Unknown
October CTS Studios. Universal Pictures. 2.45-5.45pm. fixer Harry Martell.Unknown
December ABC Elstree. 9.30-5.30 2 days Domino Productions. Unknown
1969
April CTS Studios. 2 days. Vic Film Productions. Fixer Albert Hall. Unknown.
1970
June Shepperton Film Studios Stage A. Royal Philharmonic Orchestra
American educational film.
Television Productions
1957 BBC Six-Five Special Rock and Roll Show. Appearance with Terry Kennedy's Rock & Rollers.
1957 Commercial TV. Jack Good's 'Oh Boy' show. With Terry Kennedy
1958/59/60 Diaries missing.
1961 Associated Rediffusion Ltd. Wembley studios. Series of 12 shows with Bert Weedon and Tony Meehan (of The Shadows) 'Tuesday Rendevous'
1962
July TV Centre Studio 4. Series of 6 shows for md Tony Osborne. Unknown title.
July ABC Studios. Elstree. 12 week series of The Saint starring Roger Moore. New World Productions. Fixer Jerry Jackson. Subsequent series carried on for several years.
November Wembley ARTV Studios. Studio 1. 4.15-9pm. Steve Race. Unknown title.
1963
Series. 'Maigret' Starring Rupert Davies. Md Ron Grainer. Fixer Albert Hall.
May 5 ATV Incorporated TV Ltd. Maurice Chevalier
May 12 ATV Incorporated TV Ltd Maurice Chevalier
July BBC Lime Grove Studio E. 11.30am-10.30pm. Carter-Lewis Group
October Denham. Rank Organisation. Contractor David Katz.
December 25 Live TV from Queen Mary's Hospital, Carshalton. For Jack Emblow.
1964
January 20/21 TV from Birmingham. Md Norman Percival BBC TV. Unknown title
April London Palladium. 4.30-9.30 contractor Knobby Clark. Possibly Sunday night at the Palladium. Jack Parnell.
May Michael Johns Studio. BBC TV md Stanley Myers 10am4pm.Unknown
1965
January Anglia TV Norwich. Md Tony King unknown title
March World Wide Film Studio. WWTV. Md Johnny Arthey. unknown
March BBC TV Dubbing theatre, Ealing. Md Ronnie Haslehurst. Unknown
April 12 week series BBC 'Not only but Also' starring Peter Cook & Dudley Moore.
May 12 week series. BBC TV Centre Studio 3. Arthur Greenslade. Unknown.
May BBC TV Theatre Children's TV Bert Hayes 'Crackerjack' 1 st 12 week series. The start of many children's TV shows for Bert Hayes which lasted until 1971. Series included: Crackerjack, the David Nixon Show, the Rolf Harris Show, The Basil Brush Show, The Roger Whitaker Show, Lamb Chop with Shari Lewis.
July Rediffusion TV Wembley. 10.30- 1.30pm. md Stanley Myers. Unknown
August ABCTV Teddington. 10.00 – 5.00pm. unknown
August Barry Grey Studio Wembley. Possibly 'Thunderbirds are go'
October ABC TV Teddington. Contractor Laurie Clarke Ltd. Poss. Jack Parnell.
November ABC TV Teddington. Laurie Clarke Ltd. Poss Jack Parnell.
1966
June Ulster TV Ltd. Belfast. Series of 21 shows @ 15 minutes. Roger Whitacre
1967
Bert Hayes Children's TV throughout the year
1968
Bert Hayes Children's TV throughout the year
March National Theatre. TV Centre Presentation Studio B 2.00-5.00pm
April BBC Riverside Studio 1.30-5.30pm. md Norman Percival. unknown
May BBC Riverside Studio 2.00-5.00pm fixer Tony Gilbert. Unknown
October Wembley ATV Studio 2. 2 days. Bernard Harris Orchestras Ltd. Unknown
November BBC TV Centre Studio8. Enterprise Orchestras. 10.00-10.00pm.Unknown
November Palladium Theatre 2 days. Royal Command Performance. Md Eric Tann
November Sinfonia of London Ltd. Trident TV. 8-1 pm unknown
December Wembley ATV Studio. Barnard Harris Orchestras Ltd
December ATV Studios Elstree. 3.00pm – 10.30 pm. Fixer Jack Mandell. Unknown
1969 Bert Hayes Children's TV throughout the year
1970 Bert Hayes Children's TV throughout the year
1971 Resigned from the Bert Hayes Band due to opening Violin Making workshop at The Grangeway, Winchmore Hill, London. N21.
Radio Broadcasts
1960 – 1962 'Go Man Go' a BBC Live Pop Music show once weekly 12.00 – 1.00pm. Featured David Ede and the Oscar Rabin Band and singers. (In addition the band performed 4 nights weekly for dancing at Wimbledon Palais).
1960 – 64 Numerous series with bands led by guitarist Judd Proctor i.e. The Plainsmen, quintet, etc. Judd had been a member of the Ray Ellington Quartet on the Goon Show.
1960 – 66 BBC Saturday Club with resident accompanying band Arthur Greenslade and the Gee Men. Over the years we played for ALL of the top British and American Pop Stars appearing on BBC Radio.
1961 BBC 'Easybeat' Sunday lunchtime pop show (recorded at Playhouse Theatre). Featured guitarist Bert Weedon's Band, guest singers, Alex Welsh Jazz Band etc. Long series.
1962 Commencing January 62 several series of 'Linger-a-while' shows featuring Arthur Greenslade and his Band. Arthur had been the pianist with the Rabin Band. Later became Musical Director to Shirley Bassey, then MD on All Australian Television.
Radio Luxembourg short series with Tony Hatch and Jackie Trent.
Series on BBC 'Folk Room' with Carter-Lewis and the Southerners.
1963 BBC Series ' London Town' md Les Reed (former pianist in the John Barry Seven). Our job was to accompany guest artists and play featured band numbers. On one show The Beatles appeared very early in their career and we had to do additional backing for them. George Harrison's guitar looked unusual and when I asked about it, he told me that his father had made it for him.
1963-64 'Music While You Work' A long running programme of continuous music directed at people working in factories etc. Various bands including; Nat Temple & his Band, Harry Gold & his Pieces of Eight, the George Birch Quintet and 'Society' band Claude Cavelloti. It was live 45 minutes of segue music without a rehearsal, just a 15 min. top and tailing of a couple of numbers for a sound balance.
1964 Several series with Johnny Arthey & his Band. i.e. 'Sounds of '64' and 'Stringsound' etc.
1964-65 Series BBC 'Roundabout' live at 5 pm. Judd Solo and the Italiano Quartetto.
November 64 Series 'Judd Solo Big Band Latin' Maida Vale Studio 5. Kenny Baker leading the trumpets.
November Short series Bert Weedon 'Music with a Beat' BBC Piccadilly Studio
1965
Johnny Arthey Series 'Whistle Down the Wind' Broadcasting House Concert Hall.
March Bob Miller & the Millermen. Live broadcast Playhouse Theatre
April Bob Miller & the Millermen. As above
May Radio Caroline recorded broadcast CTS Studio 9.30-11am
July Short series BBC Overseas. MV4. Dick Abell Band (Dick is guitarist with J.Arthey.)
July Series with Johnny Arthey Band. MV4 title unknown
October BBC Variety Orchestra conducted by Malcolm Lockyer.
November 'Folk Room' series for BBC producer Bernie Andrews. I was resident bass player available to accompany any artist who required me.
October-May 66 Bob Miller & Millermen series 'Swing into Summer'
1966
Another series with Bob Miller title unknown
Series with Hammond Organist Harry Stoneham. Broadcasting House.
'Swingalong'.
October Series with Bert Weedon. Title unknown
November Series with Johnny Arthey MV3. Small band; piano, drums, bass, lead guitar, rhythm guitar, vibes & tenor sax.
1967 Feb-May Saturday Club's. Johnny Arthry. Playhouse.
March Series with Hammond Organist Harold Smart. BH2
May Series 'Swingalong' Johnny Arthey. MV3.
New long series – Jimmy Young Show. Johnny Arthey. NV4
1968
January BBC Radio Orchestra. BBC Bookings. Two days.
April BBC Big Band " " short series. BH S2.
July/August Bob Miller & Millermen. Short series. Playhouse. Unknown
1969
Jan/Feb Bob Miller short series. Unknown
March English Chamber Orchestra. Maida Vale 2
April short series with folk singer Steve Benbow BH S2. Bernie Andrews
August short series. Bob Miller & Millermen. Playhouse
1970 Bert Hayes series 'Roundabout' Aeolian Hall. Bond St.
July Bert Weedon. Playhouse Teatre. Unknown
November Bob Miller & Millermen. Playhouse.
Did not accept any more broadcast work due to new career of violin making.
Other concerts and tours
1962 April 12. BBC Light Programme 'Big Beat' concert presented by Saturday Club.
Royal Albert Hall. Oscar Rabin Band with Adam Faith, The Lana Sisters,
Craig Douglas, Duffy Power, Dickie Pride, the John Barry Seven, Bert Weedon & the Trebletones. Compared by Brian Matthew.
1962 Following the success of 'I Remember You' by Frank Ifield on which I played, Frank booked the rhythm section from the recording to accompany him on a Sunday tour of Theatres during the summer of 62.
1963 April for three weeks. One man show with Maurice Chevalier at the Saville Theatre, London. Piano, bass & drums on stage.
1967 National Theatre (The Old Vic) in reparatory and European Tour.

'As you like it' Wm Shakespeare. The famous 'all male' production by Clifford Williams. Cast included: Jeremy Brett, Derek Jacobi, Ronald Pickup, Robert Stephens, Paul Curran, Charles Kay, Gary Waldhorn,

European Tour 27 September – 11 October 68. Stockholm, Copenhagen,

Belgrade & Venice. Sir Laurence Olivier accompanied us on the tour.

1969 Two weeks of one night stands with Bob Miller & Millermen.

1970 Royal Festival Hall Concert with Don Sanford and his Band.

The Oscar Rabin Band's 'Rock Unit' as featured on the BBC programmes "Go Man Go" and "Saturday Club". The musicians left to right are: Arthur Greenslade (piano), Don Honeywell (baritone sax), 'Rocking' Rex Morris (tenor), Ron Prentice (bass guitar), David Ede (Leader - tenor), Freddie Adamson (drums), Don Sanford (guitar), Tommy Hodges (Trombone).